Distributed 21 October 2022
Hello,
Thank you for continuing to subscribe to my newsletter. Please accept my rather late yet, I hope, comprehensive welcome to spring.
ELIZABETH II (1926-2022)
Of course, I have to start here.
On the morning of 9 September 2022, I released the following statement:
A great lady has today passed from her realms into a higher kingdom, and with her departure all the world is poorer; a family mourns its most cherished mentor, a Commonwealth grieves its wisest counsel, and all peoples in their hearts know that our Queen's majesty, bravery and service shall reign immortal.
The passing of Her Late Majesty saw me, in my capacity as a Spokesperson for the
Australian Monarchist League
, engaged by several national media outlets. It was a challenging time; for those interested, I
wrote a piece
for
The Spectator Australia
describing the experience.
LONG LIVE THE KING!
To celebrate the accession of Charles III, the Australian Monarchist League and I produced a new, Australian recording of "God Save the King". The recording opens with a new fanfare by me; for more details, have a look at the video's description on YouTube.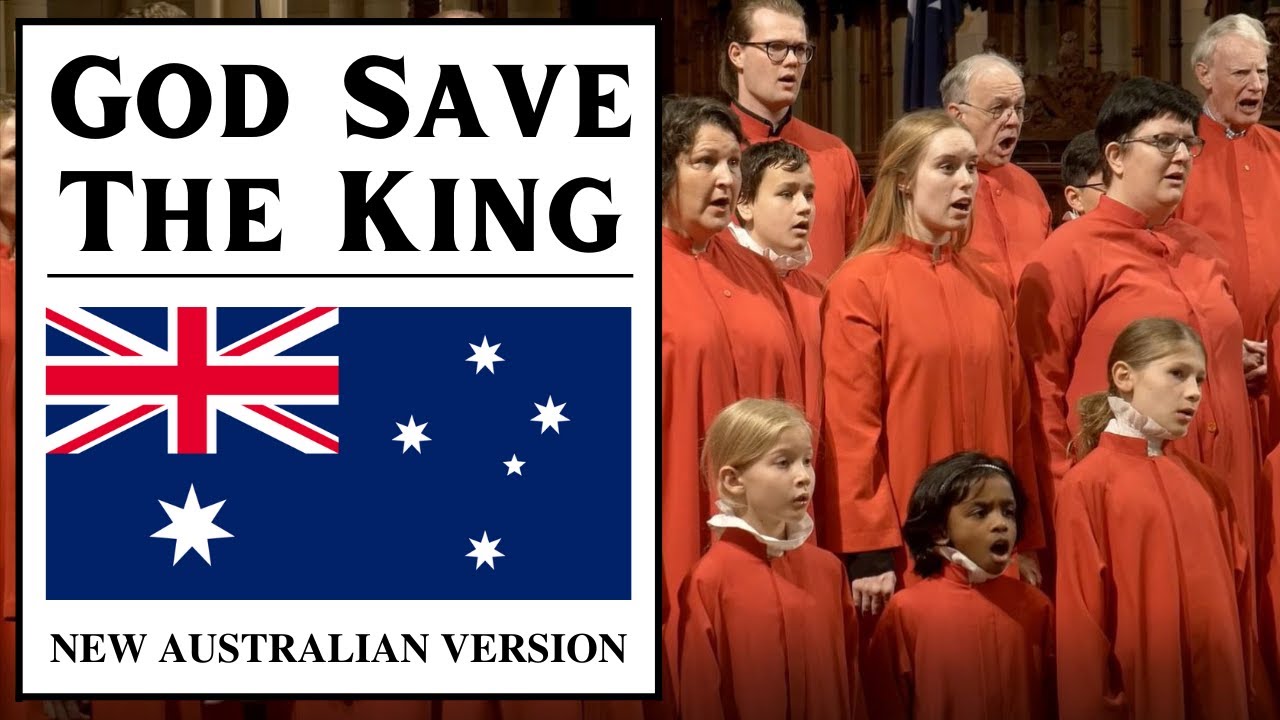 "God Save the King" – opening with a new fanfare by me.
THE QUEEN'S PLATINUM JUBILEE CONCERT
The Queen's Platinum Jubilee Concert was a roaring success; you can read more about it in
this Wikipedia article
that was created in the United Kingdom.
I am very grateful to everyone who attended, and to everyone – individuals, organisations and governments – who contributed to ensure the concert's success.
The Queen's Platinum Jubilee Concert, 6 August 2022, St John's Cathedral, Brisbane.
AMLQ RELAUNCHED
On 19 October 2022,
Australian Monarchist League Queensland
hosted Spring Soirée at the Lucinda Bar at Queensland Parliament House. Bringing an end to the branch's emergency COVID-19 provisions, I was grateful to join AMLQ's new executive as both Deputy-Chairman and Secretary.
Did you know that the Lucinda Bar is named after the Queensland paddle steamer
Lucinda
, aboard which early drafts of the Australian Constitution were drawn up under the supervision of Sir Samuel Griffith? The bar is constructed from
Lucinda
's fittings.
AMLQ has an exciting schedule of events planned for 2023. We're looking forward to creating a genuine, grassroots movement that stretches right across the Sunshine State.
A few AMLQ members gather for a photo in the Lucinda Bar.
120 YEARS OF INSPIRATION
I was deeply humbled to have my photograph and to-date biography printed on a panel as the youngest Old Collegian of
Brisbane Boys' College
's new installation, 120 Years of Inspiration. It's a pleasure to sit in the company of judges, rear-admirals, professors, diplomats and ASX tycoons, but particularly alongside Ian Barclay CBE AM (1926-2011). Mr Barclay
employed
my grandfather for virtually his whole working life.
You can find my panel on Level Three of BBC's Middle School Precinct.
THE MUSIC REPORT
Alright, let's come to musical matters.
Now that The Queen's Platinum Jubilee Concert is concluded, there's more time for composing.
Camerata – Queensland's Chamber Orchestra
is currently in residence at the Museum of Brisbane. I'm currently preparing a new suite of music, Gallery Studies, for the museum's
Making Place: 100 View of Brisbane
exhibition, which celebrates Brisbane's unique history in one hundred artworks.
Dr Brenton Broadstock AM and I also managed to catch up for dinner recently. He is a constant supporter of mine – his own music should be heard more.
Ensemble Offspring's
2022 Hatched Composer Intensive
has also proven to be a rewarding, educative experience. As a part of Hatched, I was fortunate to receive compositional instruction from Brett Dean, which were, as you can probably imagine, of extreme benefit. Operetta, my new work for Ensemble Offspring, constitutes my continuing protest against what I perceive to be the ideological state of music. From Operetta's own programme note:
All new work of our time seems to demand paragraph upon paragraph of written clarification. Creators, whether to impress or to enlighten, feel they must outline every employed technique, every intended inference, and every (supposedly) conjured mood. It is now, I think, a work's extra-musical properties that determine its success. When did composers tire of enchanting their listeners through sound and sound alone, and when did listeners tire of engaging individually with pure music? As far as I can tell, the contemporary programme note is largely a crutch for poor composers and lazy audiences.
With nothing on the horizon for 2023, I continue to progress on works without any confirmed performance outcomes. Whatever next year brings, or doesn't bring, I'll always have the joy of composing.
It's fantastic to actually have people purchasing my music
from my page
on the Australian Music Centre! I am very grateful to those supporters.
THIS NEWSLETTER'S NOISE
Prayer for a Lost Friend
was commissioned as part of the
ANAM Set
by the Australian National Academy of Music last year. Dedicated to a lost friend, the work is heard here in its ABC recording performed by its two great champions, Emily and Leigh. This is my first attempt at a rolling score; what do you think?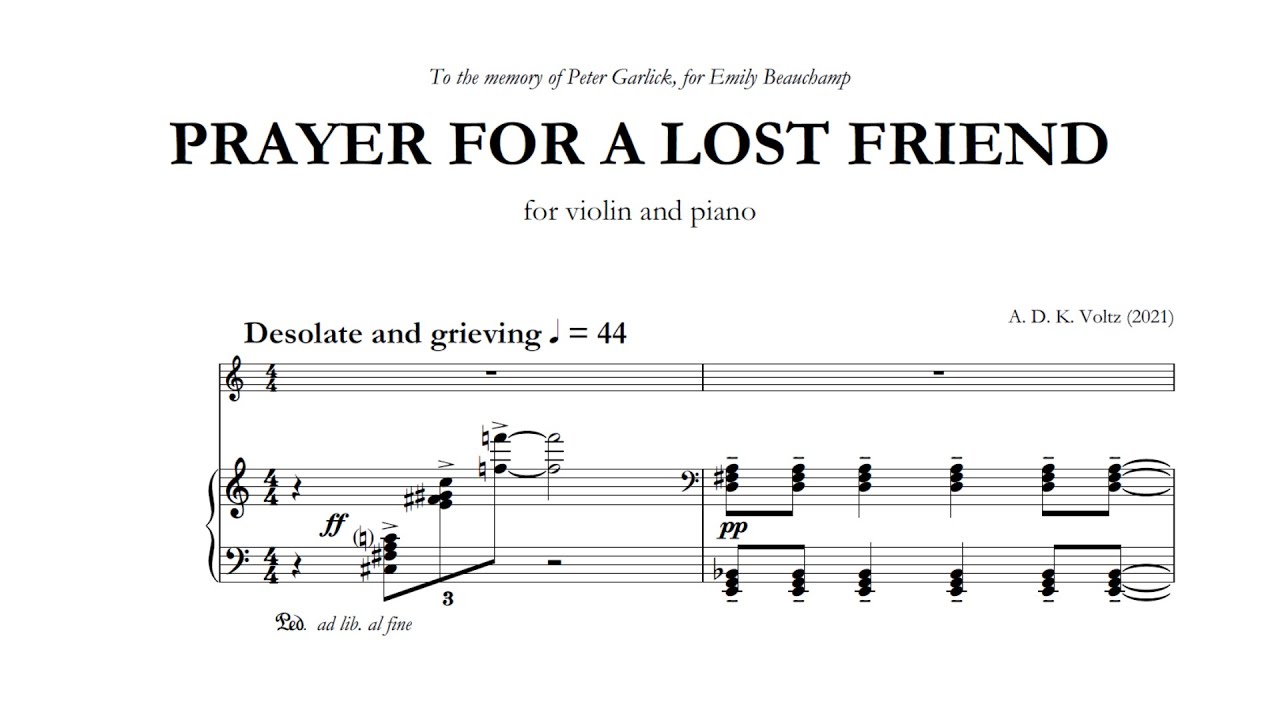 Prayer for a Lost Friend (2021), Emily Beauchamp (vln) & Leigh Harrold (pn.).
PERFORMANCE DIARY
4 NOV
:
Gallery Studies
(premiere)
Camerata – Queensland's Chamber Orchestra
Museum of Brisbane
Book now
12 NOV
:
Gallery Studies
Camerata – Queensland's Chamber Orchestra
Museum of Brisbane
Book now
12 NOV
:
Operetta
(premiere)
Ensemble Offspring
Sydney Conservatorium, Sydney
Book now
Thank you for reading,
Alexander
Copyright © A. D. K. Voltz 2022. All rights reserved.